We have grown up hearing that 'Money doesn't grow on trees. What if it can? Are you willing to embody that possibility? How would your life be with this possibility?
The rich become richer and the poor become poorer. Wondered why? Ever wondered why them and not me?
With this workshop, we are going to change that.
We are going to grow money on trees!
BEING A MONEY MAGNET is a workshop that will take you on a journey of understanding what is the energy of Money, how does it work, how have you been resisting money, breaking your limiting belief systems and creating a new emotional relationship with Money.
A Deeply immersive, intensive, and interactive Half-day workshop that will take you through powerful & advanced tools & exercises to help you redefine everything you think or feel about money & thereby help you become a Money Magnet.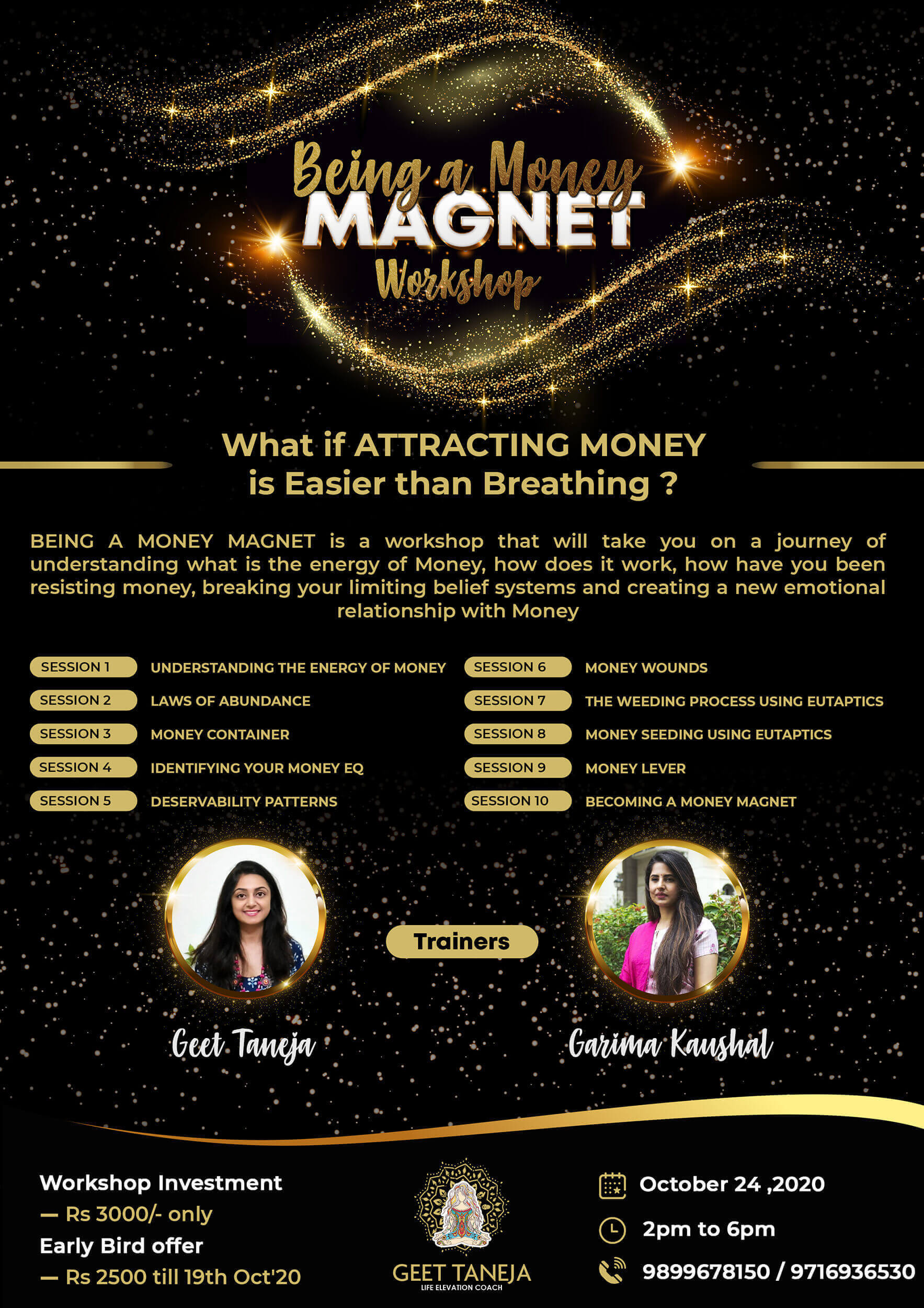 Session 1:
Understanding the Energy of Money


Session 2:
Laws Of Abundance
Session 3:
Money Container
Session 4:
Identifying your Money EQ
Session 5:
Deservability Patterns
Session 6:
Money wounds
Session 7:
The Weeding process using Eutaptics® FasterEFT™
Session 8:
Money seeding using Eutaptics® FasterEFT™
Session 9:
Money Lever
Session 10:
Becoming a Money Magnet
If you are ready to let go of your money woes & mentality of lack, we are ready to help you propel your life into a new consciousness, 'The Abundance Consciousness.'
Geet Taneja:

She is a Life elevation coach and a Neuroplastician who helps people alchemize their pain, misery, disease & fear into Joy, love, peace, and abundance. She has been using cutting-edge techniques and transformational tools for a decade to help people reach their highest potential and create a balanced & successful life.
She is a trained Eutaptics® FasterEFT™ practitioner, Clinical Hypnotherapist, Past Life Therapist, EFT practitioner, Heal your life teacher and is trained in powerful healing modalities like Self Identity through Ho'oponopono, theta healing, Crystal healing, angel healing, Melchizedek techniques, Taoism, pranic healing, reiki and much more.
All her workshops are a powerful amalgamation of the best techniques and teachings learned & applied over the years.
She also a rich corporate experience having worked in Management roles for MNCs and with the Government in developing policies for the underprivileged sections of society.
Garima Kaushal:

She is a counselor with a degree in Masters of Psychology, a Clinical Hypnotherapist, Regression Therapist, Reiki healer, Energy Healer, Crystal Healer, and Law of Attraction Coach. She has been expanding her knowledge through teachers & mentors around the world for the past 10 years, while simultaneously working in the hospitality industry, as a result of which, she understands the stress and pressure that a work environment may cause, and how to balance your professional and personal life.