We all know the benefits of the Sun, how many of you know the blessings the Moon bestows upon our health?
DID YOU KNOW?
The moonlight activates our parasympathetic nervous system: The state of REST & DIGEST.
Ancient healers and vaids often urged patients to bathe or walk in moonlight when they suffered from hypertension, anxiety or hormone imbalances. 
The Full Moon:
During the Full moon our glands are most active. This can make us feel very emotional and reactive, or, if we channel that energy, it affords the opportunity to make great gains on the inner planes and accelerate emotional healing. Our bodies are 70% water and the Full Moon not only affects the tides of the ocean, but the tides in us (in fact ancient yogic writings state that the seven oceans also exist in our bodies!)
In this full moon circle, we will pause, reflect, release & manifest through these practices-
Body Emotional Mapping
Identify what to resolve & what to release.
Forgiveness exercises
Heart opening pose & activating intuition
Breathwork, using cleansing and rejuvenating breathing techniques to move energy and alter our state of consciousness.
Creating Intentions to Manifest in all areas of life-Circle of Life
Crystal Full Moon Meditation Journey within
Please wear loose, comfortable clothing. The wearing of white is energetically supportive though not required. Please bring a journal, and a pen also.
20 October'2021 (Wednesday) 5:00 PM TO 7:00 PM
Geet Taneja – Neuroplastician, Eutaptics-FasterEFT Practitioner, Clinical Hypnotherapist , Heal Your Life Teacher, Pranic Healer , Past Life Therapist.
Workshop Investment-Rs.1800
Calling all Goddesses, sisters, and women for the Full moon circle on the 9th of September for a sacred gathering, creating a safe space, where women can enjoy being in sacred sisterhood, feel supported, and witnessed as we honor and celebrate the full moon.


In ancient communities, this circle was used to call in the divine feminine, and as a way of grounding, centering, and receiving higher wisdom.


Everything that happens in the circle remains privately in the circle, which allows women to truly open up, share, and be authentic.
Women are inextricably linked to the moon. Moon has a 29-day cycle, which mirrors our menstrual cycle. She has four main phases, and so do we.


Men live by the sun, and women live by the moon. This is the way it is; the way it has always been.


Working with the moon is a wonderful way to honor and celebrate your own sacred cycle as a woman, and tune in to mumma nature and the energy of the moon.

It's a way to create space, rhythm, and harmony; in your days, weeks, and months. It's a powerful, underutilized tool and strength that only we, as women, have access to.
The Power of Attending a Moon Circle
If you're new to working with the moon, a moon circle is a wonderful way to initiate yourself into this world, and dip your toes in her waters.


You can connect with like-minded women, form friendships, and experience the magic of sisterhood. You can be yourself, speak your truth, and feel confident and comfortable within your body.

Because this circle is a sanctuary for women who are craving a safe, authentic space, free of judgment. For we have been judged, criticized, and shamed for lifetimes.
You can be there to support other women, as they share their hopes and dreams and struggles; and be a part of their healing and transformation, as well as your own.

A moon circle not only builds a community, and has the power to heal all the women in the circle; but has the power to extend that healing to each of those women's wider communities, and create a far-reaching ripple effect that changes the world.
In the full moon circle, we will be connecting more deeply with our bodies & release the blockages in our bodies that contract our energy as we show up in the world.

AS YOUR ENERGY & AURA GROWS & STRENGTHEN, IT STARTS SHOWING UP AS YOUR EXPANSIVE EXPRESSION OF YOUR TRUE SELF IN THE WORLD. You become more comfortable in your skin, flowing through life with ease, radiant & glowing, shining in your work & feminine leadership and more.



It finally gives you permission to stop hiding behind masks to fit into society but instead starts emitting your blueprint on the world. We will understand and connect with our feminine essence and give more power, love & nourishment to activate it.


We will work with the mother wounds that hold us back in our life by putting unconscious limitations on our true expression. We will heal the ancestral mother's wounds, initiating setting all women in our lineage free from these wounds.


These mother wounds show up as the lack of trust in the masculine, our inability to attract authentic men, our inability to open ourselves to receive love from the masculine, our suppressed anger of the patriarchy, distrust of our own emotions & weaknesses, lack of confidence in self, a feeling of being not good enough and so on.
Geet Taneja – Instructor
Geet Taneja, born a seeker, started her spiritual journey at a very young age. In her thirst to understand the spiritual laws and metaphysical laws governing life on Earth, she studied under various Masters and teachers from around the globe.
She believes that creating a beautiful life and anchoring peace in your being is the testimony of being on the correct spiritual path in Life.
She is trained in and conducts sessions using Clinical hypnotherapy, Past Life Regression therapy, Ho'oponopono, Faster EFT, JOURNEY (by Brandon Bays), Theta healing, Pranic healing, Angel therapy, Taoism, Crystal healing, Melchizedek techniques and is a Heal your Life Trainer.
She also has a successful corporate career where she worked with the Govt in developing policies for the underprivileged sections of the society.
Here is What Past Participants Had to Say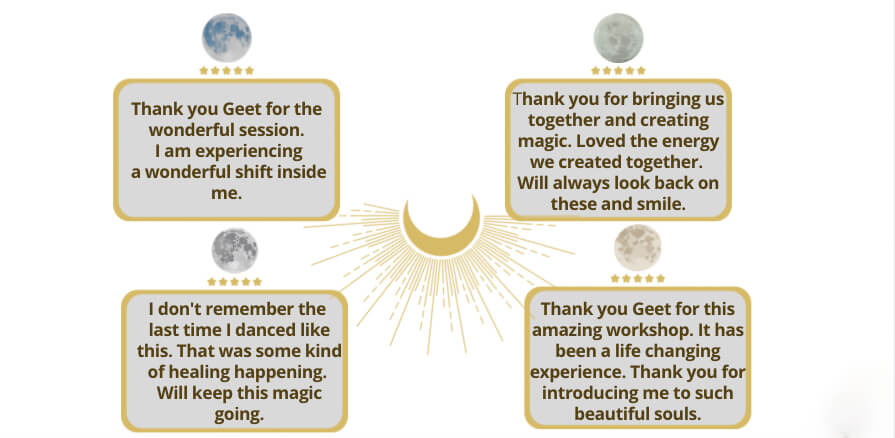 Date of Workshop – 9th September 2022
Timings – 4 pm IST-8 pm IST
Mode of workshop- IN person & Online both
Location– Malibu towne,Gurgaon
What to Wear – Comfortable clothes(preferably white)
Workshop Investment- Rs 5000/-